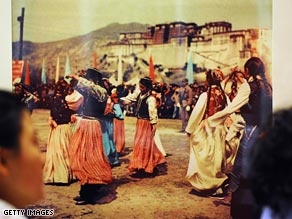 Tibet reopened to foreign tourists Sunday after a month-long suspension, the state-run Chinese Xinhua news agency reported.
Twenty-five tourist groups were to arrive Sunday in Lhasa, the capital of the autonomous region in China, the agency said. More than 500 foreigners are expected in Tibet in the next two weeks, according to the Tibet Autonomous Regional Tourism Bureau, Xinhua said. The tourists are coming from countries such as Australia, Canada, Denmark, France, Italy, Japan and the United States, according to the tourism bureau, Xinhua said. Tourism officials said Tibet had suspended visits by foreigners because of safety reasons, the news agency reported. The closure coincided with the 50th anniversary of the failed uprising that led to the Dalai Lama fleeing Tibet.
Don't Miss
Dalai Lama exile anniversary
YouTube blocked in China
S. Africa denies Dalai Lama entry
Last March, a protest in Lhasa turned violent when Tibetan mobs burned vehicles and shops, and attacked ethnic Chinese. After those protests, there were anti-Chinese demonstrations almost every day outside the Chinese Embassy in the Nepalese capital of Kathmandu. The protests happened several months before the Summer Olympic Games in Beijing. Demonstrators from around the world took to the streets, calling for a boycott of the games to protest Chinese rule in Tibet.